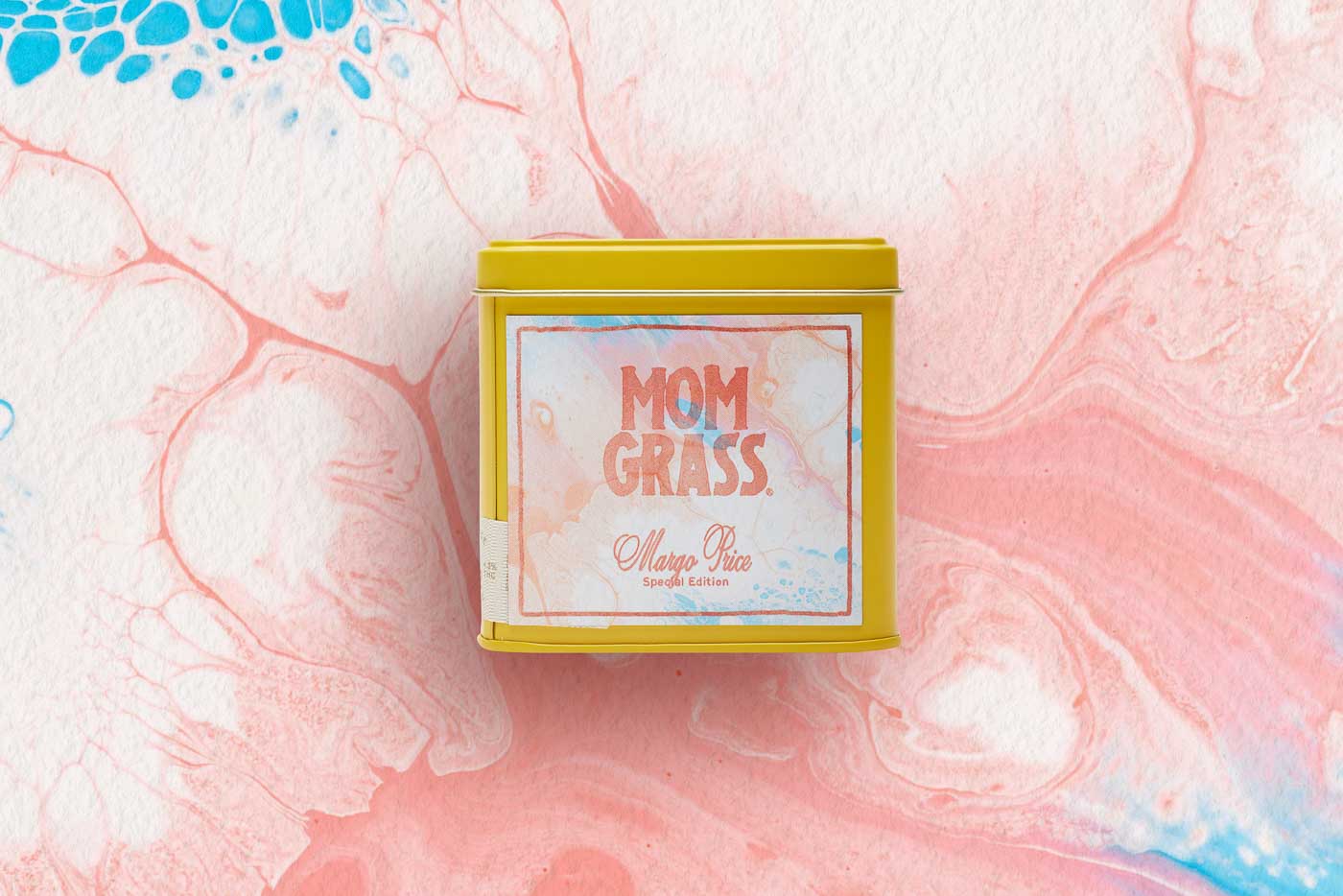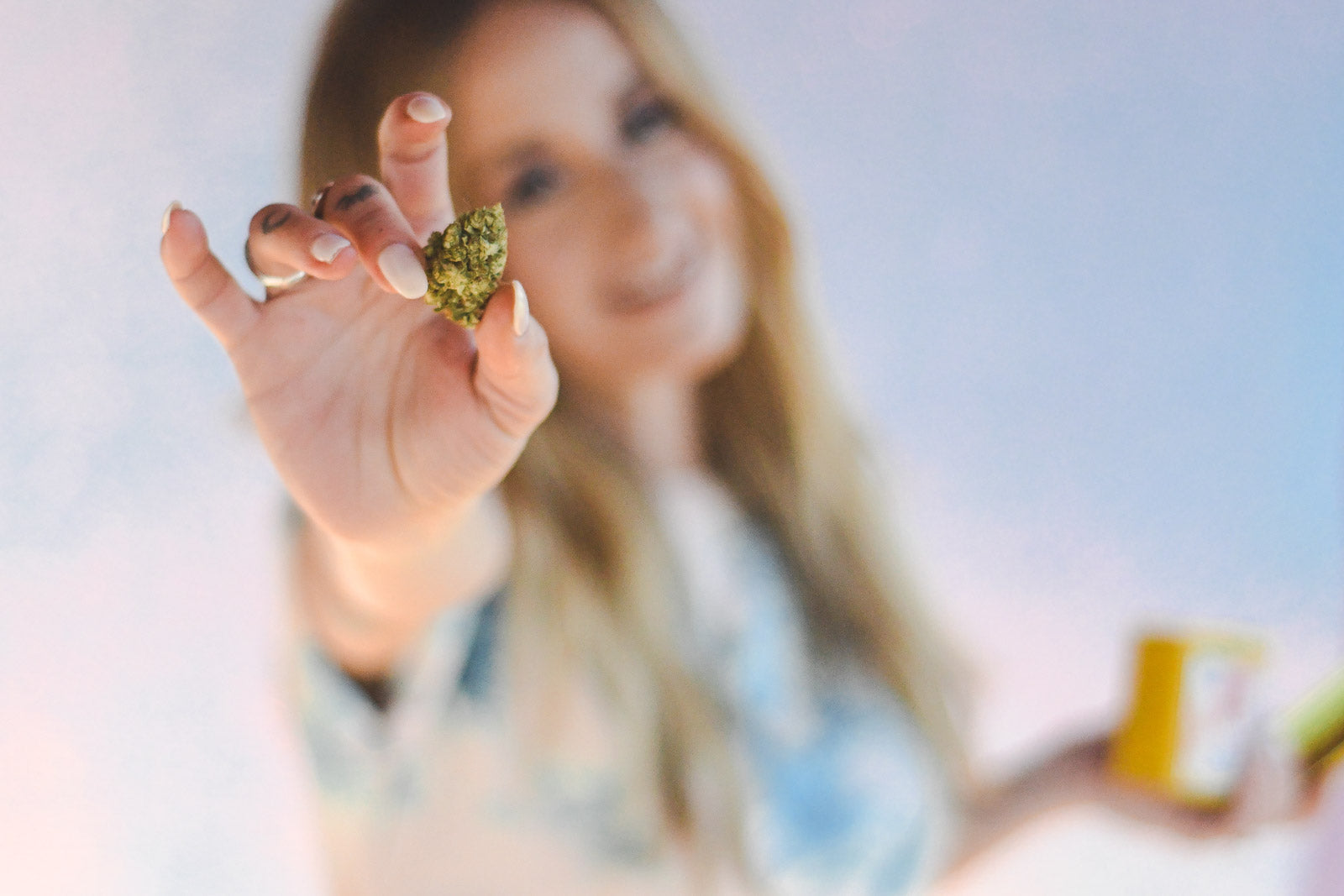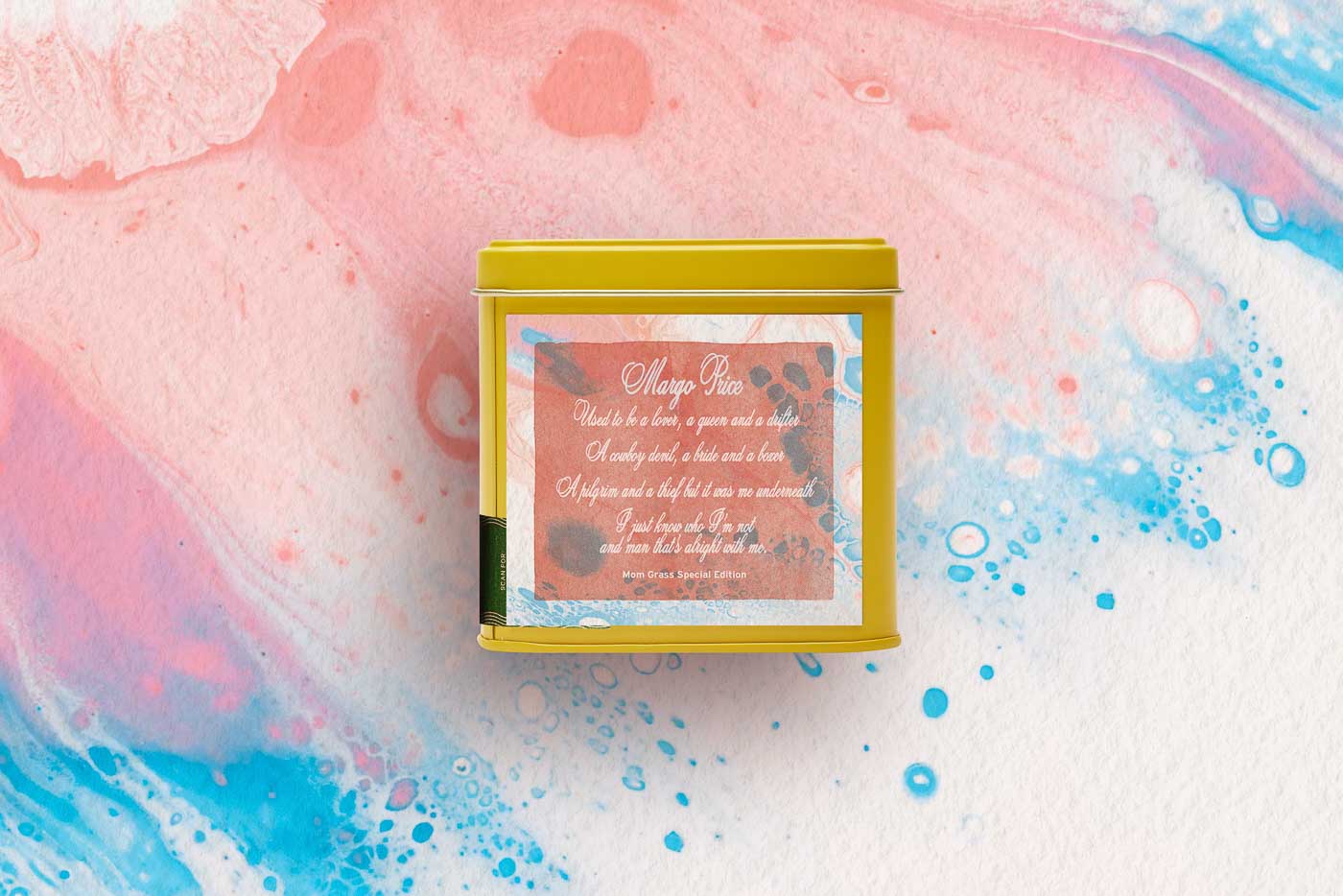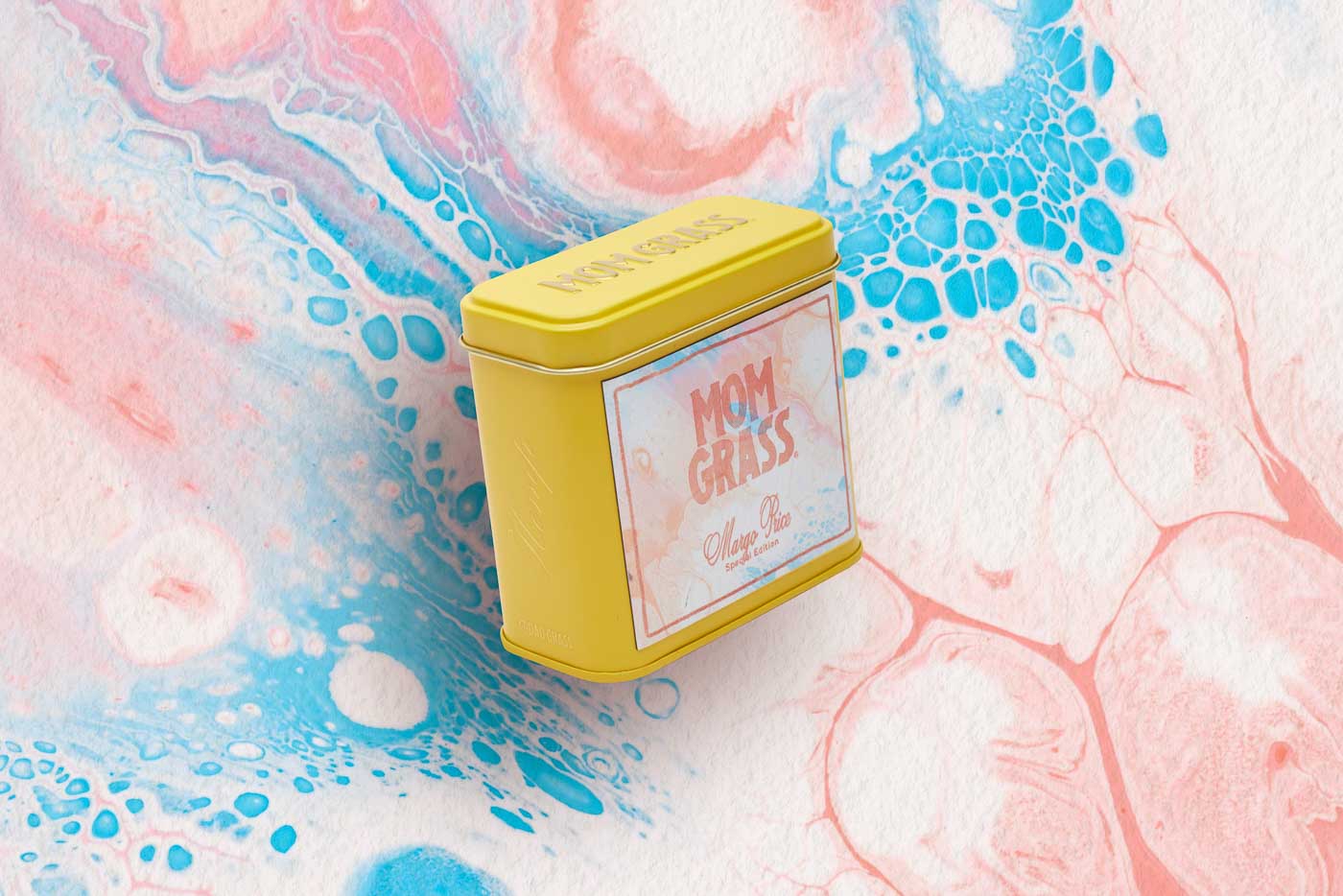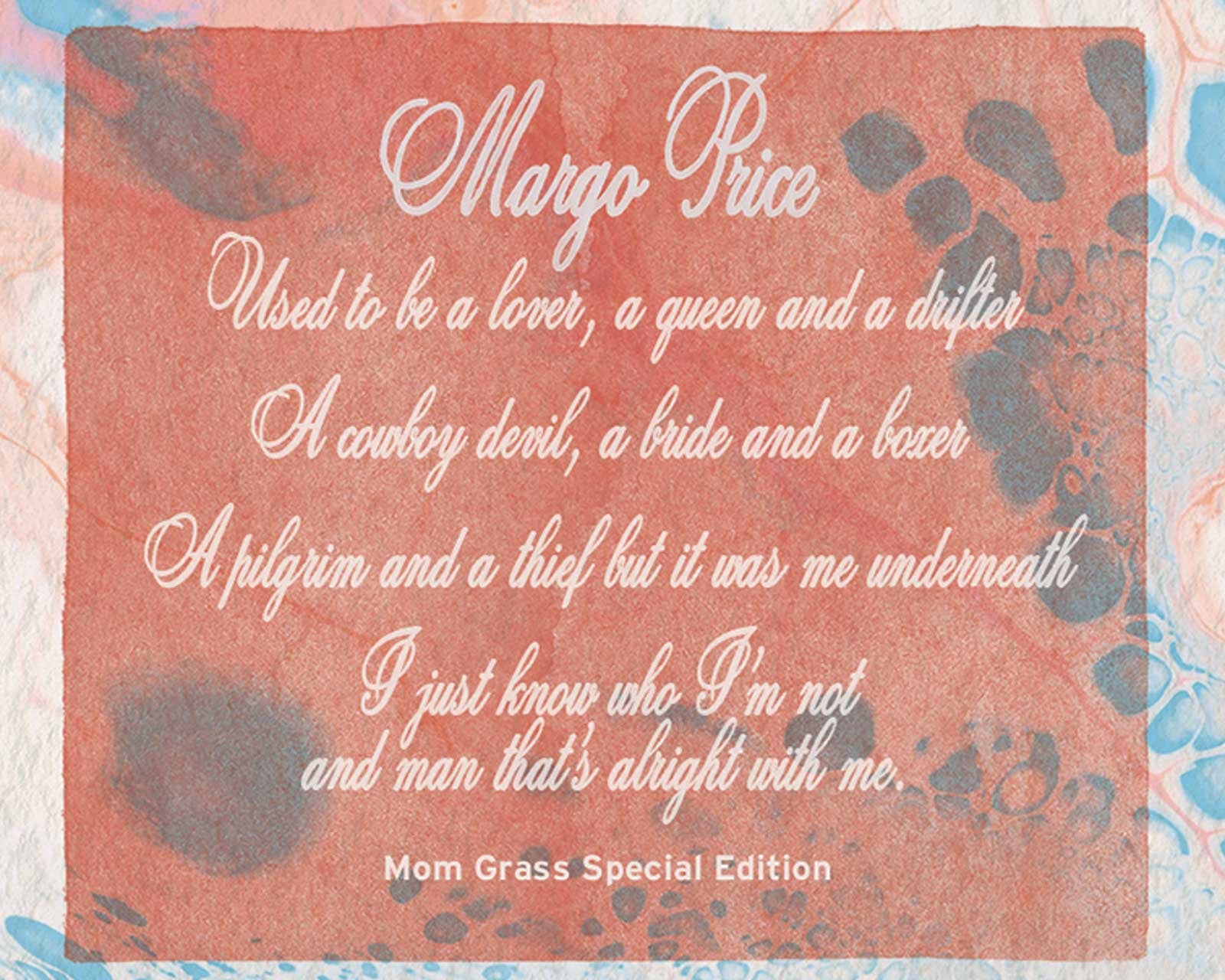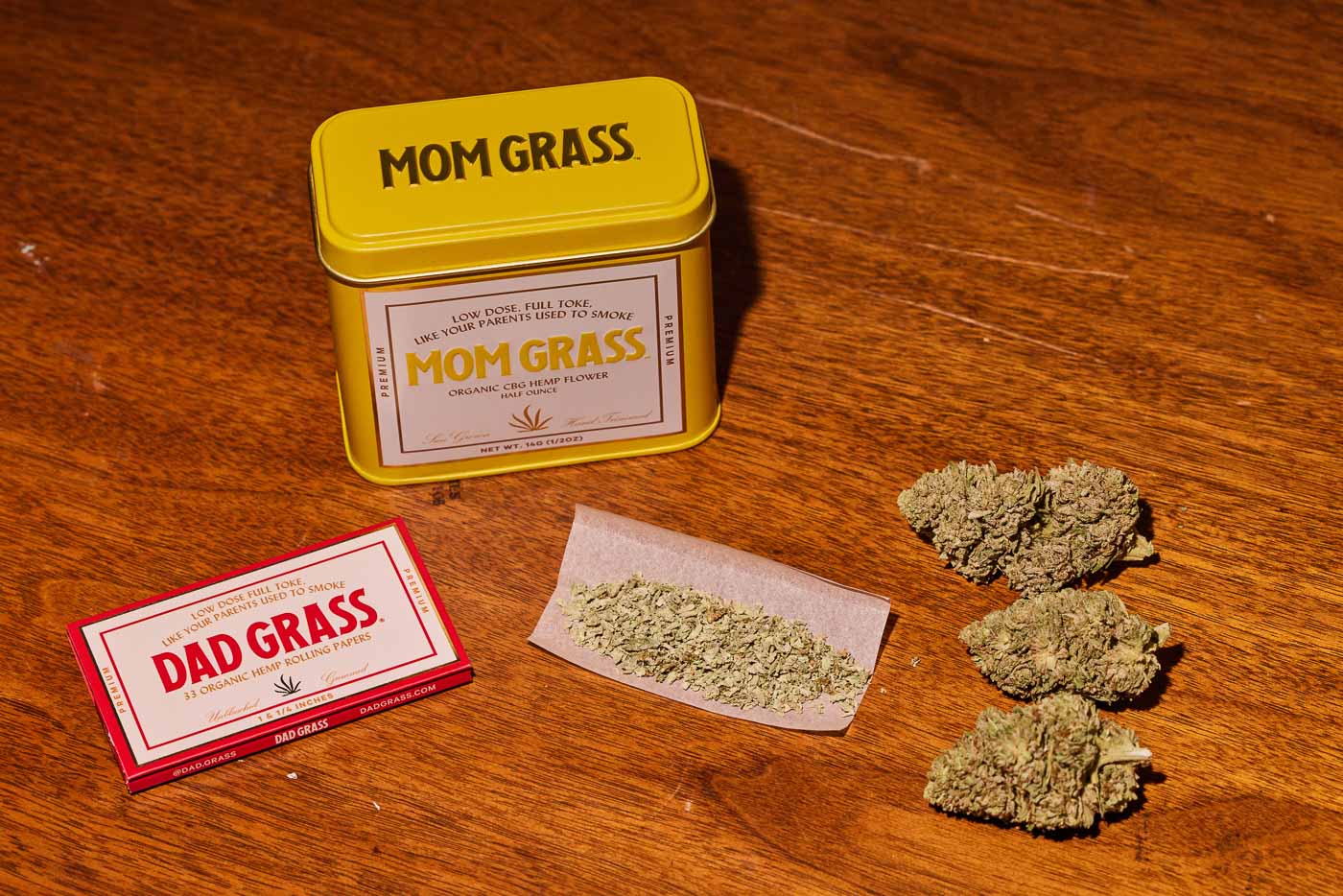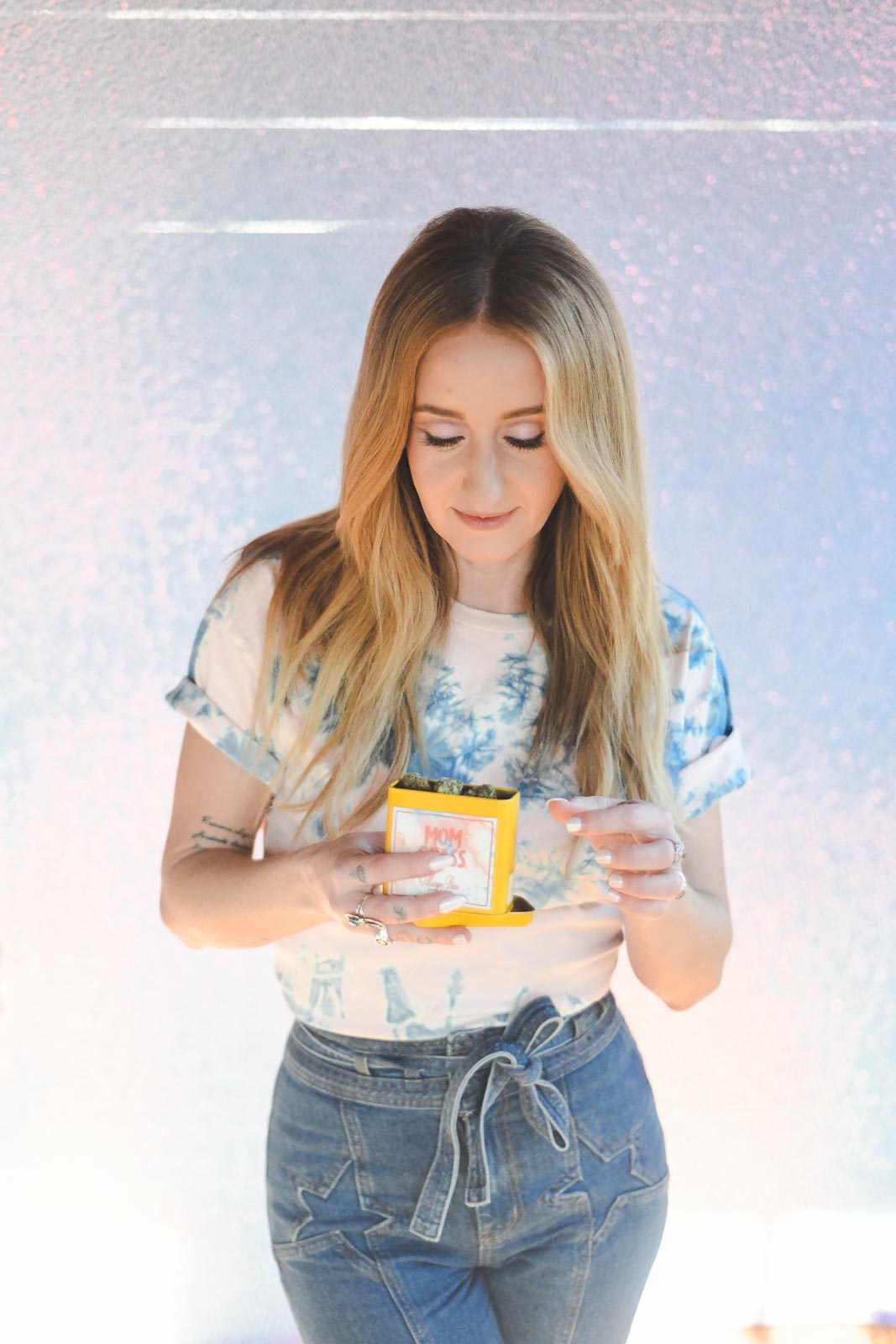 Mom Grass X Margo Price Special Edition Flower
Description
A Quarter or Half Ounce tin of Mom Grass CBG Flower with Margo Price Special Edition magnets on the front and back. An innovation borrowed from our Dad Stash series, these magnets turn your classic Mom Grass Flower packaging into something, well, even more special! Dare we say, extraordinarily unique and sublimely relatable…just like Margo herself.
The artwork commemorates the release of the Grammy-nominated musician, author, hard-working mom and cannabis lover's latest album Strays. With her help, we were able to turn a kaleidoscope of maximum Margo-ness from the album artwork into new artwork that jazzes up your tin. We hope you dig the psychedelic watercolors in dreamy desert palettes, nods to the chain-stitched embroidery on the groovy fungi jumpsuit she wears on the album cover, and lyrics she chose to include from her rollicking new epic "Been To The Mountain."  
Once your Grass makes like a Margo Price original and goes up in a blaze of glory, you can use your special edition Mom Grass tin to hold all sorts of things. Guitar picks. Stray song lyrics. Magic mushrooms. We don't judge! You can even slap one of the magnets on your fridge.
Free USPS first class shipping on all orders over $100!

Mom Grass x Margo Price  
She's been nominated for a Grammy, partied with Bourdain, jammed with Willie and owned the top of the Dad Grass Charts since we first discovered her in 2016. She's the extraordinarily unique but sublimely relatable Margo Price. A musician and author. A hard working mom and cannabis lover. She's one of Country Music's most loved voices, but she's known to play outside of the pack. She turns tough times into beautiful art that we love to sing to, laugh to, dance to, cheers to, and hell, smoke a few joints to.
With her new book Maybe We'll Make It now on shelves and her Jonathan Wilson-produced record Strays finally hitting the airwaves, we are lucky enough to share in a moment of maximum Margo-ness with our Mom Grass x Margo Price Collection. A collaboration of jams and joints that tunes into the kaleidoscope of deeply personal elements driving her work. Done in the free-spirited key of Grass, of course, it's got Mom Grass Packs and tins of Flower all wrapped up in special packaging along with handmade "Margo Grass" tie-dye tee shirts and embroidered denim mom hats.

What Is CBG?
CBG is the mother of all cannabinoids, the building block for THC and CBD and the key ingredient in our new Mom Grass pre rolled joints. It's extra special. Rare and powerful. A bit of a mystery. Just like the moms in our lives. Learn more about CBG here.

What Is CBG Good For?
Studies on CBG, which is short for cannabigerol, are still in their infancy stages but the science leads us to believe that it can help heal the body and soothe the soul. Like CBD, CBG appears to be non-psychoactive, which means it won't spin you out. Our customers report that a few tokes lets their mind tune in while the rest chills out. Just like a motherly embrace that washes all your aches, pains and worries away. Learn more here.

What's In The Tin?
The Tin: Plastic's not our bag, man. There's nothing more tried-and-true than an old fashioned tin to keep your nuggs safe. Unlike the ones your folks may have stashed their goodies in, ours has a food-grade coating on the inside to make sure all you smell is your fresh cut grass. The EZ-pop lid keeps things air-tight without the hassle of those complicated opening mechanisms that some of the other guys have (Childproof? More like adultproof!). Plus, they're completely recyclable. We expect most of you will keep 'em around for a while, maybe even pass them down as family heirlooms. But if you want to chuck it, you can use that green can!

Dad Grass Rolling Papers: There are papers. And then there's the Cadillac of papers. You know how we roll. No expense was spared on the complimentary packs of 1 ¼" unbleached organic hemp papers we've dropped in every tin. 33 to a pack. Plus filters if that's your style. We even added a magnet closure, because we like to keep it classy till the last doob.

2-Way Humidity Control Pack: Even the best quality flower stored in an airtight container can lose some of it's magical properties over time. But with our specially-calibrated 2-way humidity control packs, you'll be safely preserving your flower's aromas, flavors and effects like a pro. They're made with all-natural salts and purified water which help maintain humidity within the tin, creating a protective monolayer of water molecules over those precious trichomes. Kind of like a miniature humidor for your grass.

The Freshness Seal: Like any flower, Mom Grass CBG hemp's best when it's fresh. Our batches are small and we pack them on the reg, so you can rest assured that none of the flower has been sitting around for long. But we're going the extra mile to lock in that freshness by wrapping up the top of the tin by hand.

The Batch Label: Every tin has a little green or purple label (a nod to our favorite nugs) that helps you learn more about our 100% organic CBG hemp. A quick glance will give you the batch number as well as the percentage of CBG and THC (always below 0.3%!). We go the extra mile to make sure what you smoke is 100% pure and that nothing has accidentally creeped into our crop. Before twisting it up, we send our freshly trimmed flower to the same independent third-party labs that test the marijuana you find in dispensaries. Not only do they make sure there are no pesticides, mold, fungus, bacteria, heavy metals or other toxins, they also determine the precise concentrations of THC and CBG as well as the terpene profile. Don't believe us? Click here to view the testing results (COA) for this product. Or, once you get your items in the mail, just whip out that smart phone, scan the QR code on the tin and check out the test results that way.

What's So Special About Mom Grass Flower?
Small Batch: We've got a thing for the little guys, cuz we're one of them! We only work with craft farmers that sustainably produce hemp in small batches. They grow, harvest and trim by hand with the same level of care a home gardener would use for their family's harvest.

Good Genes: We tirelessly scoured the country for the most perfect strain of CBG hemp, so you didn't have to! The specimen we selected is a timeless classic. An everyday hero. It's extra high in CBG, low in THC (below .3%) and rich with terpenes. It looks good, tastes delicious, smokes smooth and is as friendly to the environment as it is to your body and mind.

Sun Grown: Sure, you can grow cannabis in a warehouse off the highway. But there's something not-quite-right about fake lights, mysterious chemicals and a terroir that's thinner than the organic hemp paper we roll our joints with. We keep things 100% natural, like the good ol' days. When all you needed to power your flower was some living soil, local water and plenty of natural sunlight.

Choice Nugs: When we get a new batch of flower from the farm, we carefully remove any trim, shake, seeds or stems and then separate it into two delicious-smelling piles. One has all the smalls; the more modestly-sized buds that we grind up and roll into our joints. The other has the bigs; the larger buds that usually cluster at the top of the plant (true heads call this the "cola"). They're the primos of the pot, the fattest flowers with the highest concentrations of the cannabinoids and terpenes you love so much. And from this pile, we make an even smaller pile with only the best-looking and best-smelling bigs. These are the chosen ones that we weigh, one by one, and place oh-so-delicately into your tin.

Slow Dried: "Low and slow" is our motto when it comes to drying a harvest (and, come to think of it, most of the good things in life). We don't like to rush things. And don't even try messing with the thermostat! We keep the temperature low, the humidity stable, and the lighting mellow so that our ladies can take their pretty little time. It may take several days to get that moisture content just right, sometimes even more, but as our parents' always told us, patience and precision pays off.
Carefully Cured: Curing weed is like aging a good wine. A good cure brings out those subtle smells and flavors (can you detect that hint of lavender?). It also preserves the flower and all of its magical properties, the all-natural way. Some people even say that carefully-cured flower is the key to a smooth smoke and a perfectly mellow buzz.

Hand Trimmed: Trimming is a craft, dare we say an art form. One that can be imitated by machines, but never replicated. By carefully trimming each bud by hand, we make sure to get rid of those toke-harshing fan leaf leaves so that all you're smoking is the finely manicured, super tasty, trichome-covered flower.

Thoroughly Inspected: From the spring morning when the seed goes into the ground to the bittersweet moment when each tin is packed and shipped, we've got our eyes on our grass. We inspect every plant, every nug, every trichome--every step of the way. But we don't expect you to just take our word for it. That's why we go the extra mile by sending our flower to the same independent third-party labs that test the marijuana you find in dispensaries. We always pass with flying colors.
Legal Disclaimers
Heads Up: If you really want to keep your Dad Grass (or anything, for that matter) away from your kids, parents or other sets of sticky fingers, try the classic 'lock and key' approach. Dad Stashes are not child-proof nor are they guaranteed to dupe every time.  
THC Content is at or below the legal limit of 0.3%.
You must be 21 or older to purchase or consume these products.
The statements made regarding these products have not been evaluated by the Food and Drug Administration. The efficacy of these products has not been confirmed by FDA-approved research. These products are not intended to diagnose, treat, cure or prevent any disease. All information presented here is not meant as a substitute for or alternative to information from health care practitioners. Please consult your health care professional about potential interactions or other possible complications before using any product. The Federal Food, Drug, and Cosmetic Act require this notice.
Warning: Cancer and reproductive harm. www.p65warnings.ca.gov

Mom Grass X Margo Price Special Edition Flower
I have battled insomnia, menstrual cramps, migraines, back pain, depression, hangovers, writer's block and boredom with cannabis that's high in CBG, and I want to help remove the stigma around this beautiful plant.
What's Mom Grass?
CBG is the key ingredient in the 100% organic hemp we roll up into our Mom Grass joints and tins of flower. CBG is extra special. Rare and powerful. A bit of a mystery. Just like the moms in our lives.
Learn More