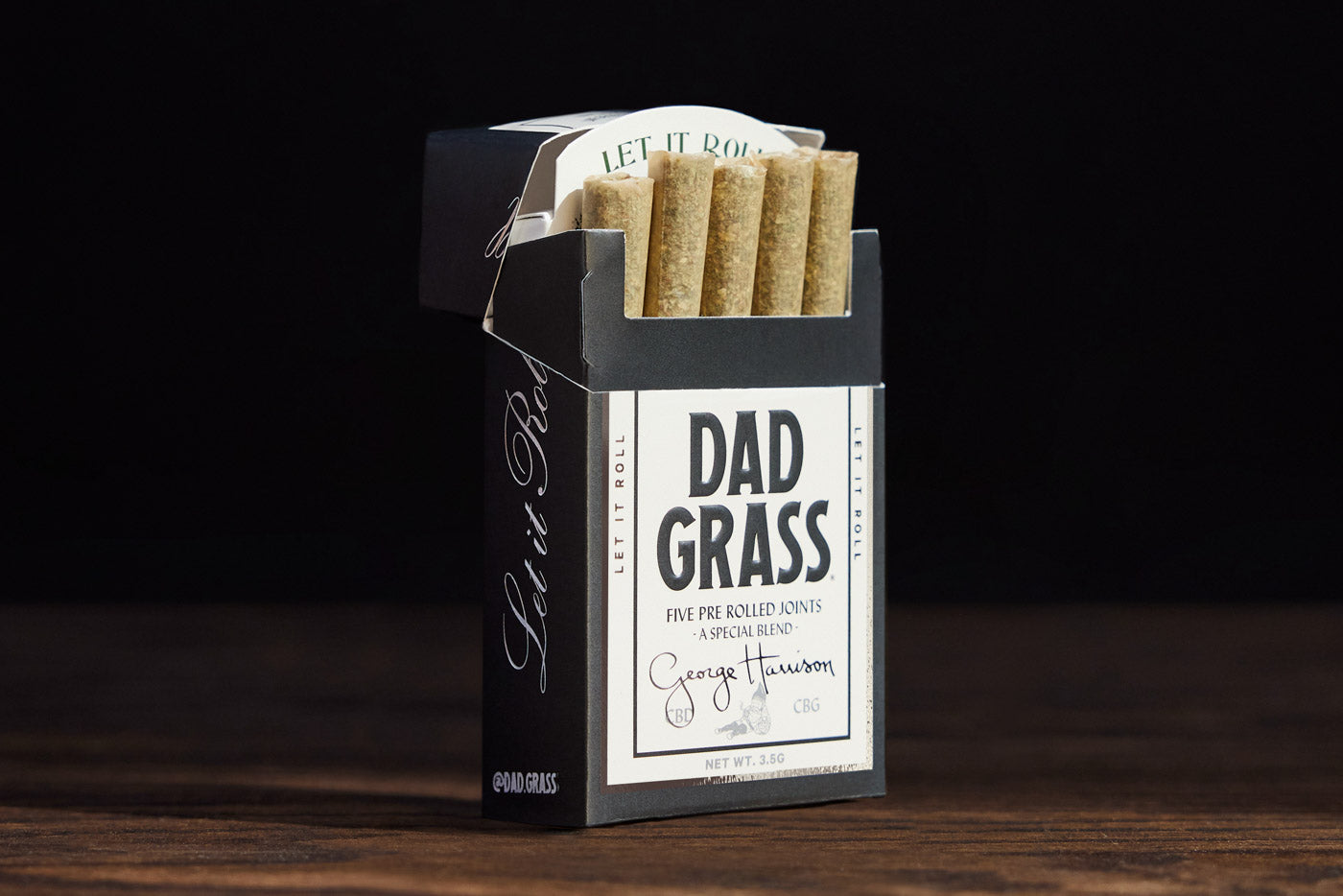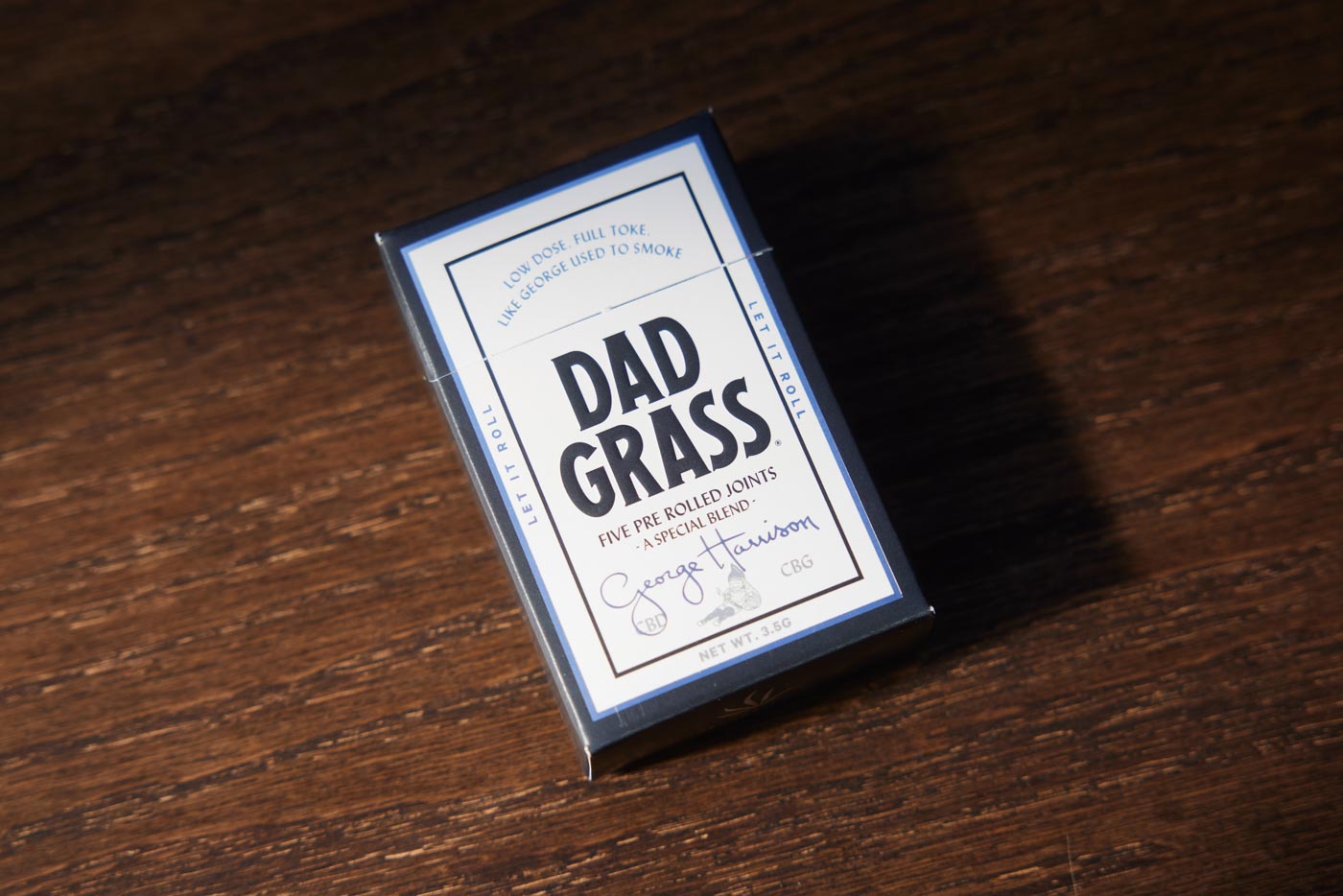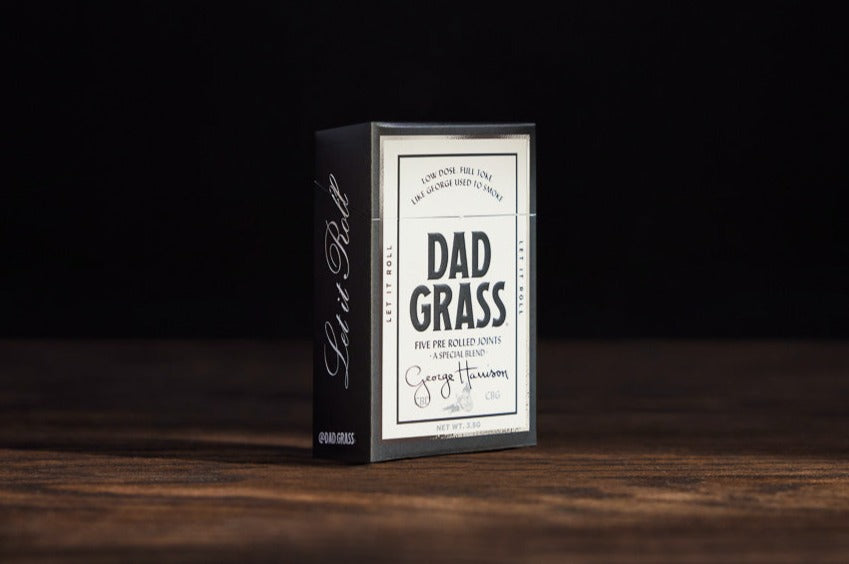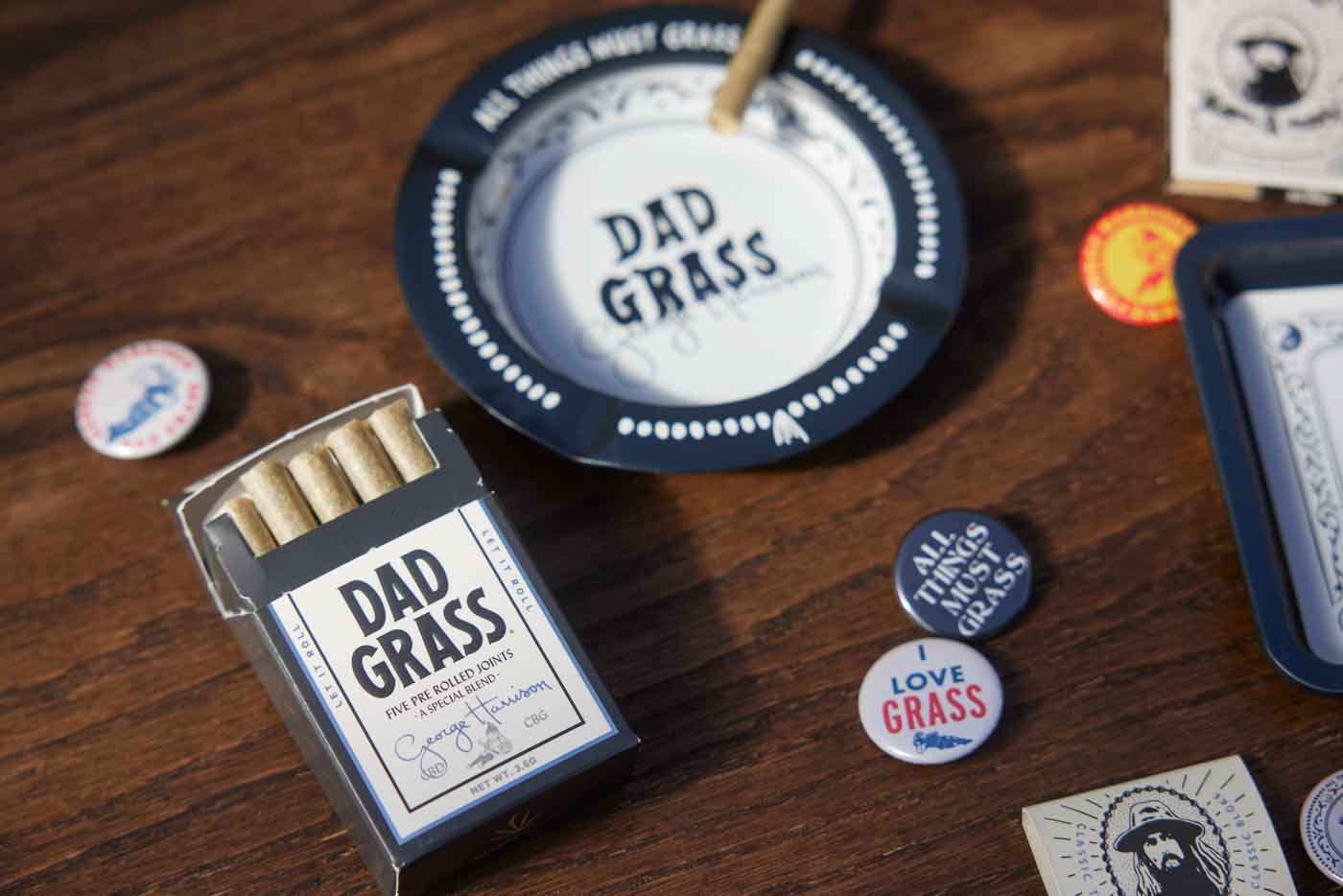 Special Blend George Harrison Dad Grass Five Pack
Description
Classic toke meets a classic bloke with these signature George Harrison Dad Grass smokes. Crafted from a special blend of Organic CBD and CBG hemp flower. A perfect harmony for your smile and your heart. Nothing run of the mill. No cockamamie business. No extra texture. And absolutely no wah-wahs. Just 100% hallelujah to plug you in and turn you on. Om.
Like George Used To Smoke
We'd like to think that if George was still "drinking his tea" today, he'd shy away from the high test blow-your-mind weed that the kids are into and opt for something mellower, something like the specially blended CBD + CBG hemp joints we've rolled up in his memory. The low dose Organic hemp flower we use for these joints (and all Dad Grass products, for that matter) has less than .3% THC, which means that it won't get you stoned to the bone. Instead, it'll take you back to the good ol' days when smokin' a doobie helped you tune in, gave you a pleasant-but-manageable buzz and put you in a chilled out euphoric mood.


A Special Blend

Mixing it up with one of the most iconic musicians in history is humbling, to say the least. So for this collaboration, a blending of our modest little weed brand with George Harrison – the genius, the guru, the legend, the man and the dad – we had to come up with something truly special. George himself was a mystic blend. A blend of cultures, styles, times…you name it. He was living proof that certain blends, of the right ingredients and in the proper proportions, do it better. So we set out to craft an all new kind of joint. A mix of Dad Grass CBD flower and Mom Grass CBG flower. CBD for physical harmony and CBG for mental clarity. A peaceful balance of our two favorite and most enlightening cannabinoids, all wrapped up in one perfectly rolled joint. It's our love song to George and his beautiful dualities. Our tribute to him as a catalyst for creativity and connection. A special blend that we hope is worthy of George's name and legacy.


CBD + CBG

If you're already hip to the hemp, you've probably learned the ABCs of CBD and CBG. But for those of you that are new to Dad Grass and Mom Grass, we recommend you check out some of our educational blog posts to learn more  about these two groovy cannabinoids, the parental units of the Dad Grass fam. To keep it simple, CBD (cannabidiol) is the active ingredient in our Dad Grass Joints, Flower and Classic Formula Tincture. We find that it's great for winding down and that it makes us feel deeply and totally chilled out. CBG (cannabigerol) is the active ingredient in our Mom Grass Joints and Flower. Our friends tell us that they like it for creative inspiration because it makes them feel more calm, focused and present in the moment. Both cannabinoids have been proven effective in reducing anxiety, stress, pain, inflammation and even some chronic illnesses. What happens when you blend the two together? Well, there's a growing body of scientific evidence (supported by our own unofficial studies, wink wink) that leads us to believe you get the benefits of each…plus some! That's because of the entourage effect, which causes cannabinoids to work better together than individually. We'll spare you the deep dive on the endocannabinoid system this time around. And we'll avoid any band-versus-solo-albums comparisons for obvious reasons. But suffice it to say, our Special Blend combines CBD and CBG in a perfect harmony that'll plug you in and turn you on.


Effects To Expect

The Special Blend is less a stop along the road between Dad Grass and Mom Grass and more of a vibration on its own frequency. We often say that Dad Grass is more of a head high. Mom Grass is more of a body high. And we've begun to affectionately refer to the effects of smoking the Special Blend as a "heart high." Many of our friends have reported that, along with improving their mood and widening their smiles, the Special Blend chills them out and makes them feel more connected to the moment. We think George would be proud that his first signature weed product is known to have this effect, because he supported, "anything that (could) help mitigate stress and keep people out of their minds, in their hearts, out of the psychotic place and into the heart place." George also often maintained that cannabis got his creative juices flowing, and that's another effect that people can expect from the Special Blend. Perhaps it's because the CBD brings us a sense of physical harmony while the CBG calms and grounds us. And when blended together, it helps us flow into that peaceful place of inspiration and creation. 


What's In A Special Blend Pack?

Like our Dad Grass and Mom Grass 5 Packs, the Special Blend George Harrison Dad Grass Five Pack comes with five .7G joints. Each one is handcrafted using only the finest 100% Organic hemp flower, responsibly grown right here in the USA. No additives or pesticides. No nicotine or tobacco. No sticks, stems or seeds. No trim or shake. A simple paper filter. All wrapped up in 100% natural papers and folded at the end to keep the good stuff in.
We gave the design of the Special Blend pack a little "extra texture". How could we resist? We're mixing it up with George Harrison after all! It's still the same familiar flip-top hard pack with our E-Z slide insert. But if you look closely you'll see some tasteful nods to the man and his music. On the front, just below George's signature, we snuck in one of the gnomes from the cover of All Things Must Pass. On the sides, we proclaim the motto of the collaboration, "Let It Roll" (an unintentionally apt joint-themed lyric borrowed from George's Ballad of Sir Frankie Crisp). The batch label, which contains information about the CBD and CBG concentrations and a QR code for the full testing results, is designed as an ode to George's time spent in the East. And when you reach for one of your joints inside, you may just recognize the lush landscape of George's Friar Park estate, also featured on the cover of All Things Must Pass.


Legal Disclaimers
THC Content is at or below the legal limit of 0.3%.
You must be 21 or older to purchase or consume these products.

The statements made regarding these products have not been evaluated by the Food and Drug Administration. The efficacy of these products has not been confirmed by FDA-approved research. These products are not intended to diagnose, treat, cure or prevent any disease. All information presented here is not meant as a substitute for or alternative to information from health care practitioners. Please consult your health care professional about potential interactions or other possible complications before using any product. The Federal Food, Drug, and Cosmetic Act require this notice.
Warning: Cancer and reproductive harm. www.p65warnings.ca.gov


Special Blend George Harrison Dad Grass Five Pack
It focuses your attention better on the music so you can hear it clearer
What's In Our Special Blend?
CBD for physical harmony and CBG for mental clarity. A peaceful balance of our two favorite and most enlightening cannabinoids.
Learn More
Hide Your Special Blend Joints In Plain Sight!
Introducing the limited edition All Things Must Grass Dad Stash. A revolutionary way to stash your grass.