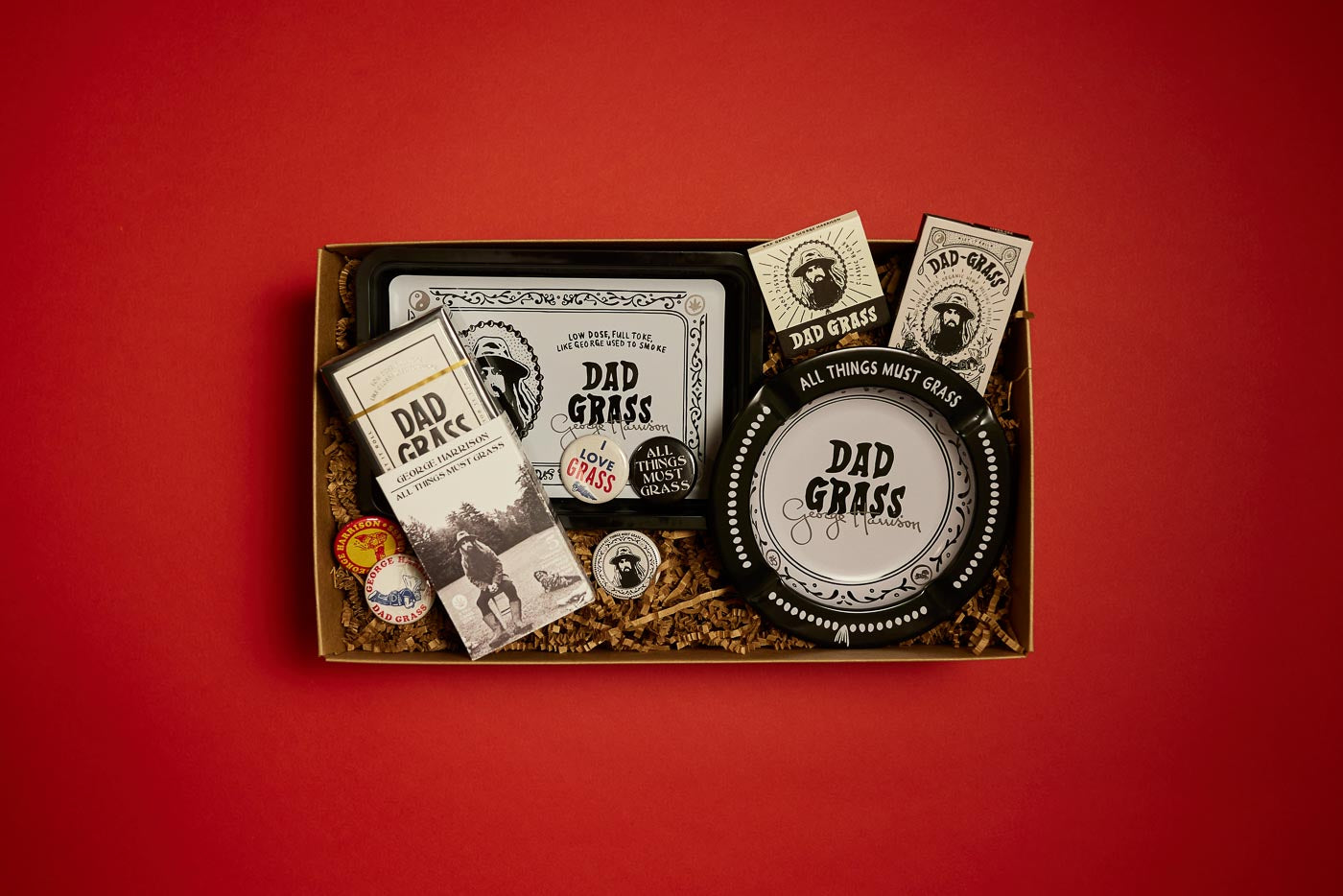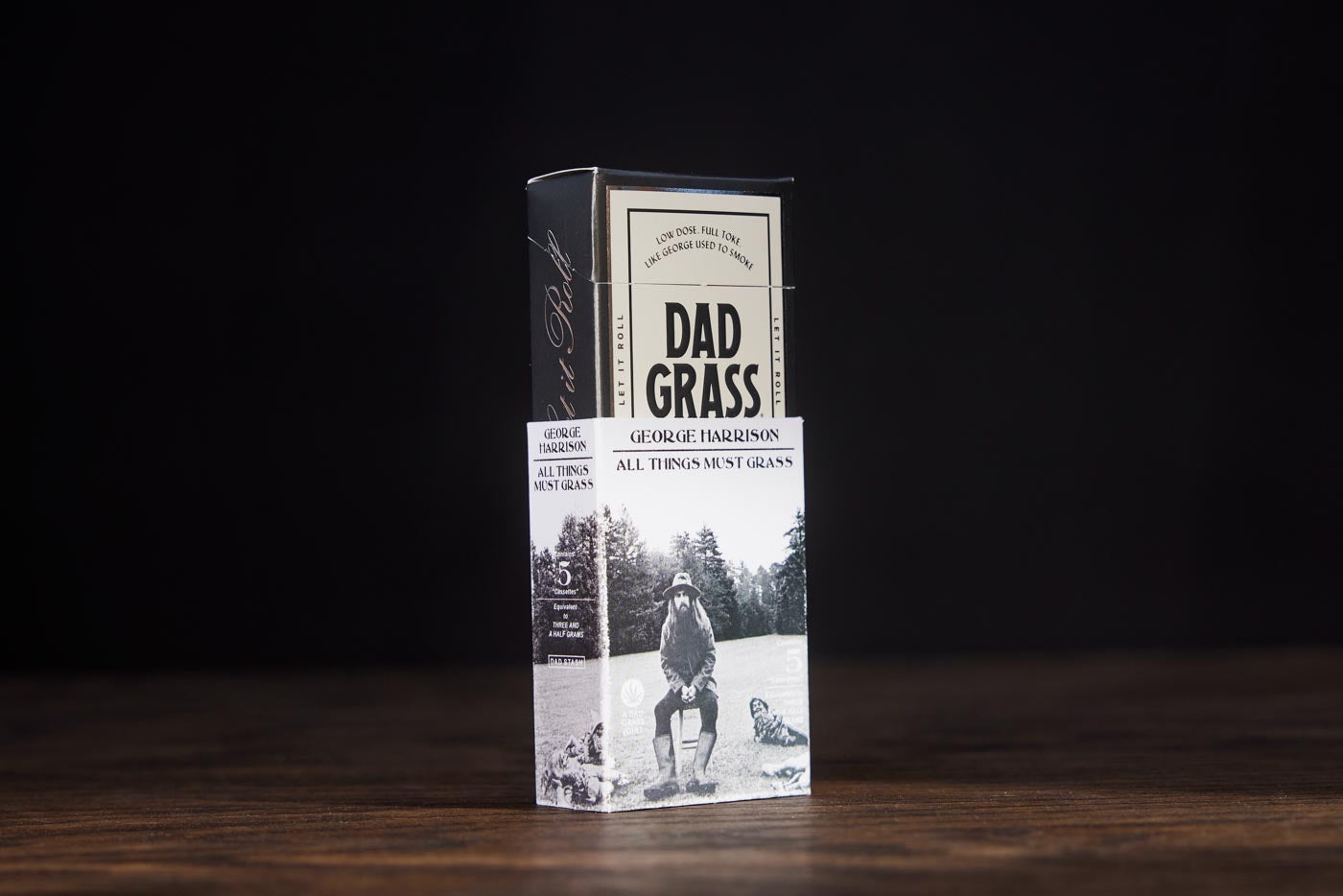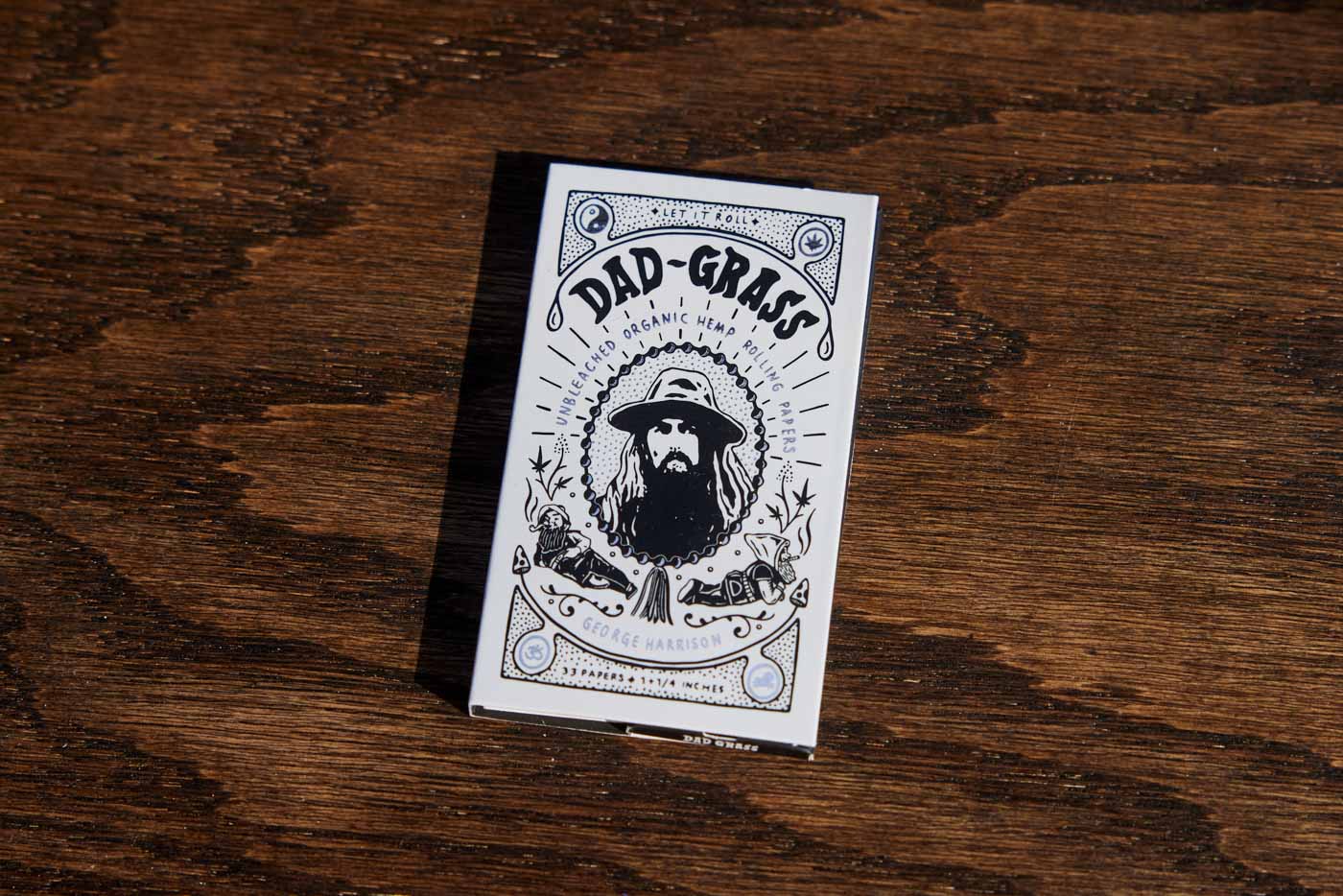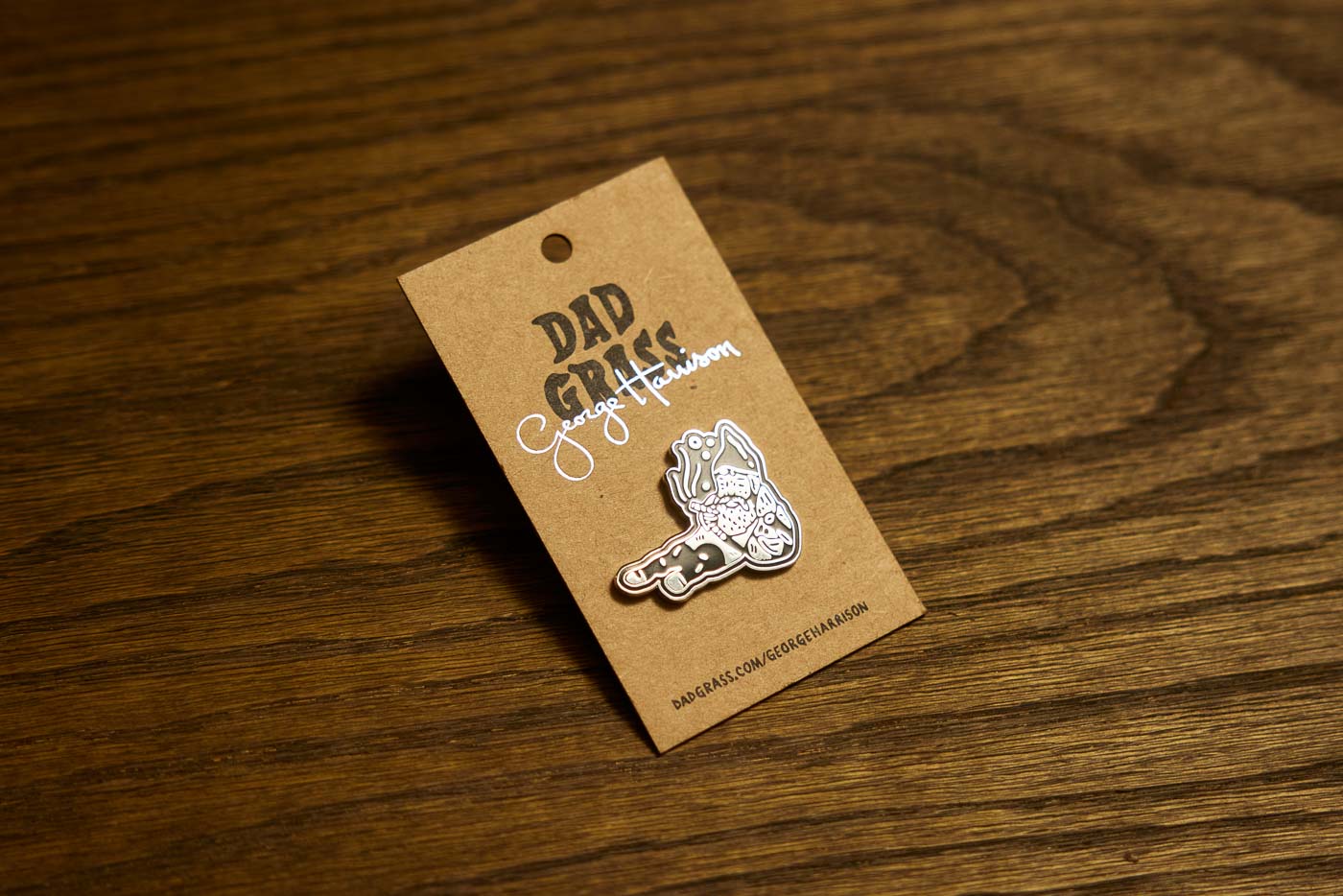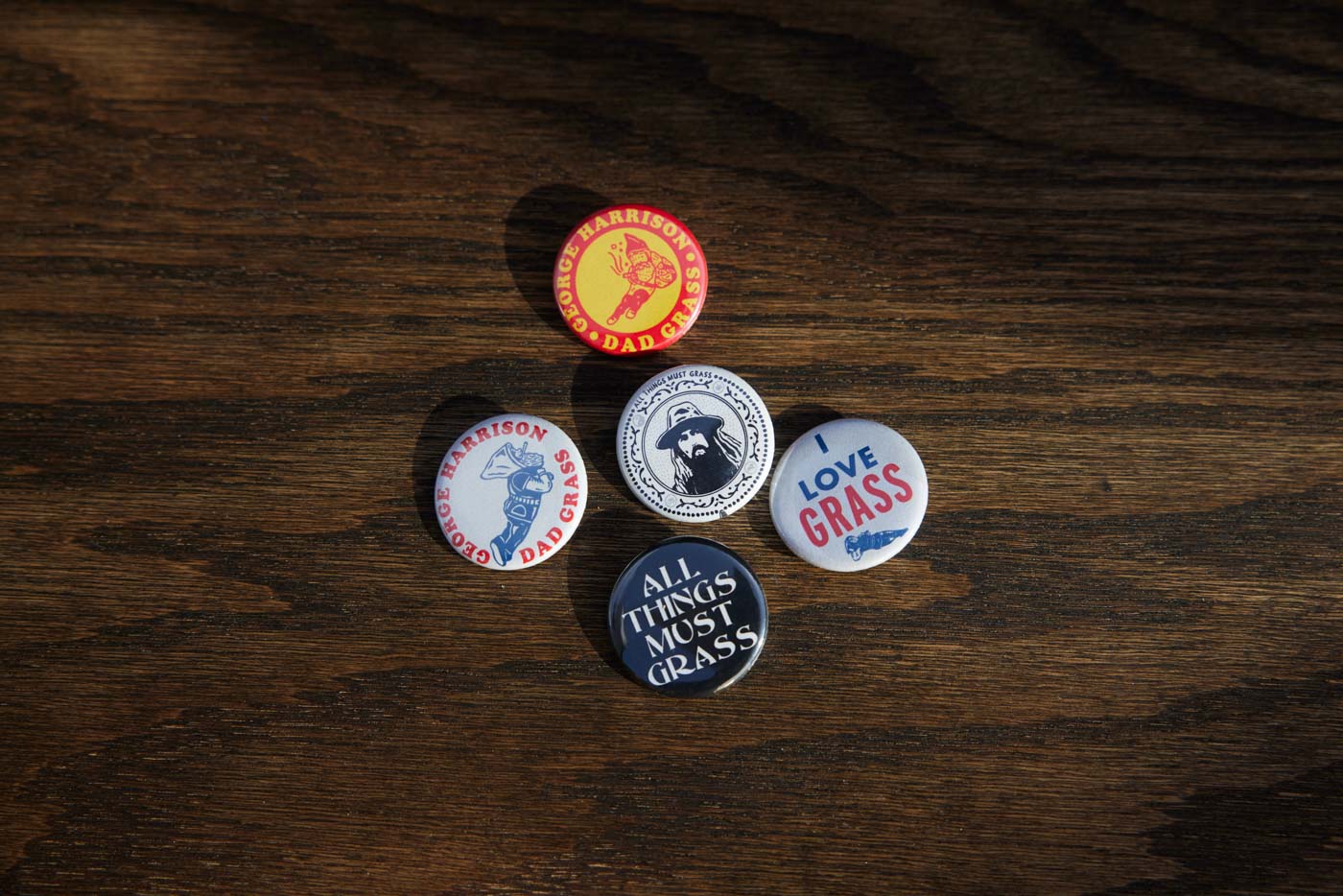 The Dad Grass x George Harrison Bundle
$80.00
Regular price
$93.00
Subscription • Save
Description
All Things Must Grass Dad Stash
Signature Rolling Papers

Signature Grashtray
Signature Rolling Tray
Button Pack
All Things Must Grass Bumper Sticker
Legal Disclaimers

We put together a bundle befitting an icon. Our Dad Grass x George Harrison Bundle includes key pieces from our 'All Things Must Grass' Collection.

Included in the bundle is the Dad Grass x George Harrison All Things Must Grass Dad Stash (featuring the Special Blend George Harrison Dad Grass Five Pack), Rolling Papers, Ashtray, Rolling Tray, Dad Grass x George Harrison Gnome Pin & Bumper Sticker. 
Note: Photos show the Pin Pack but those sold out so we've swapped in the limited edition premium enamel pin!
That's worth $93. But for a limited time, you can snag this swag for $80.
The Dad Stash is our revolutionary stashing system that lets you hide your grass in plain sight. To celebrate the 50th anniversary of George's seminal recording, we've created an "All Things Must Grass" 5 Pack Dad Stash that makes your Special Blend George Harrison Dad Grass Five Pack of joints look like the double cassette boxes released back in the day.

There's nothing 'run of the mill" about these signature George Harrison rolling papers. Because sometimes you just gotta let it roll (among the weeds). George didn't put his signature on many products back in the day, but his family says he would have enthusiastically signed off on these packs of premium rolling papers. And there's nothing run of the mill about them! The artwork transports us back to George's time at his Friar Park estate, circa 1970, where he first began to cultivate his love for gardening and nature. The papers, well, they're a bit more posh than what he and his friends were rolling with back in the day. Each pack contains 33 1 ¼" unbleached organic hemp rolling papers. Plus filters if that's your style. We even added a magnet closure, because George would have kept it classy till the last doob.
An ashtray befitting an icon. Engineered to accommodate up to four of our fabulous Special Blend Joints at the same time! It's a classic tin ashtray tastefully adorned with George's signature, wreathed with the icon's icons.  
Sure, an All Things Must Pass album cover still works in a pinch. But this George Harrison Signature Rolling Tray will let you roll into the night! Legend has it that George could twist up a perfect one-handed doobie without dropping a single nug. He may not have needed a rolling tray, but the rest of us mere mortals can certainly appreciate the utility of an impeccably designed piece of pot paraphernalia that lets things roll more smoothly. This George Harrison Signature Rolling Tray is not too big, but not too small. It has perfectly curved sides and a smooth surface so you don't lose any of your precious Grass. Sure, an All Things Must Pass album cover still works in a pinch. But a cherry piece of gear like this will have you singin' hallelujah as you roll among the weeds.
A limited edition pin featuring one of the famously laid-back gnomes from the All Things Must Pass album copy, indulging in his sweet herbal bounty. This hard enamel pin has a smooth, shiny finish and a rubber "clutch" closure. Many an iconic photo of George from the 60s and 70s picture him with pins and buttons adorning his guitar straps, hats, lapels or denim jacket pockets. Sometimes subtle and sometimes not, these pins were one of the many ways he shared his philosophy and affiliations with the world. For those that can't get their hands on one of the super rare and collectable vintage George Harrison pins, we've created this instant classics inspired by the ones you'll find on eBay or in the pictures of George from back in the day.

A durable 7" x 3" sticker with what might be our favorite dad-joke yet. Get it? We changed "Pass" to "Grass" and did it in the same font as George's seminal album cover. When they roll up on you, they'll know if they're in-the-know. And like George's music, this bumper sticker is made to last.

THC Content is at or below the legal limit of 0.3%.
You must be 21 or older to purchase or consume these products.

The statements made regarding these products have not been evaluated by the Food and Drug Administration. The efficacy of these products has not been confirmed by FDA-approved research. These products are not intended to diagnose, treat, cure or prevent any disease. All information presented here is not meant as a substitute for or alternative to information from health care practitioners. Please consult your health care professional about potential interactions or other possible complications before using any product. The Federal Food, Drug, and Cosmetic Act require this notice.
Warning: Cancer and reproductive harm. www.p65warnings.ca.gov
The Dad Grass x George Harrison Bundle

$80.00

Regular price

$93.00
It focuses your attention better on the music so you can hear it clearer
What's In Our Special Blend?
CBD for physical harmony and CBG for mental clarity. A peaceful balance of our two favorite and most enlightening cannabinoids.
Learn More
Hide Your Special Blend Joints In Plain Sight!
Introducing the limited edition All Things Must Grass Dad Stash. A revolutionary way to stash your grass.