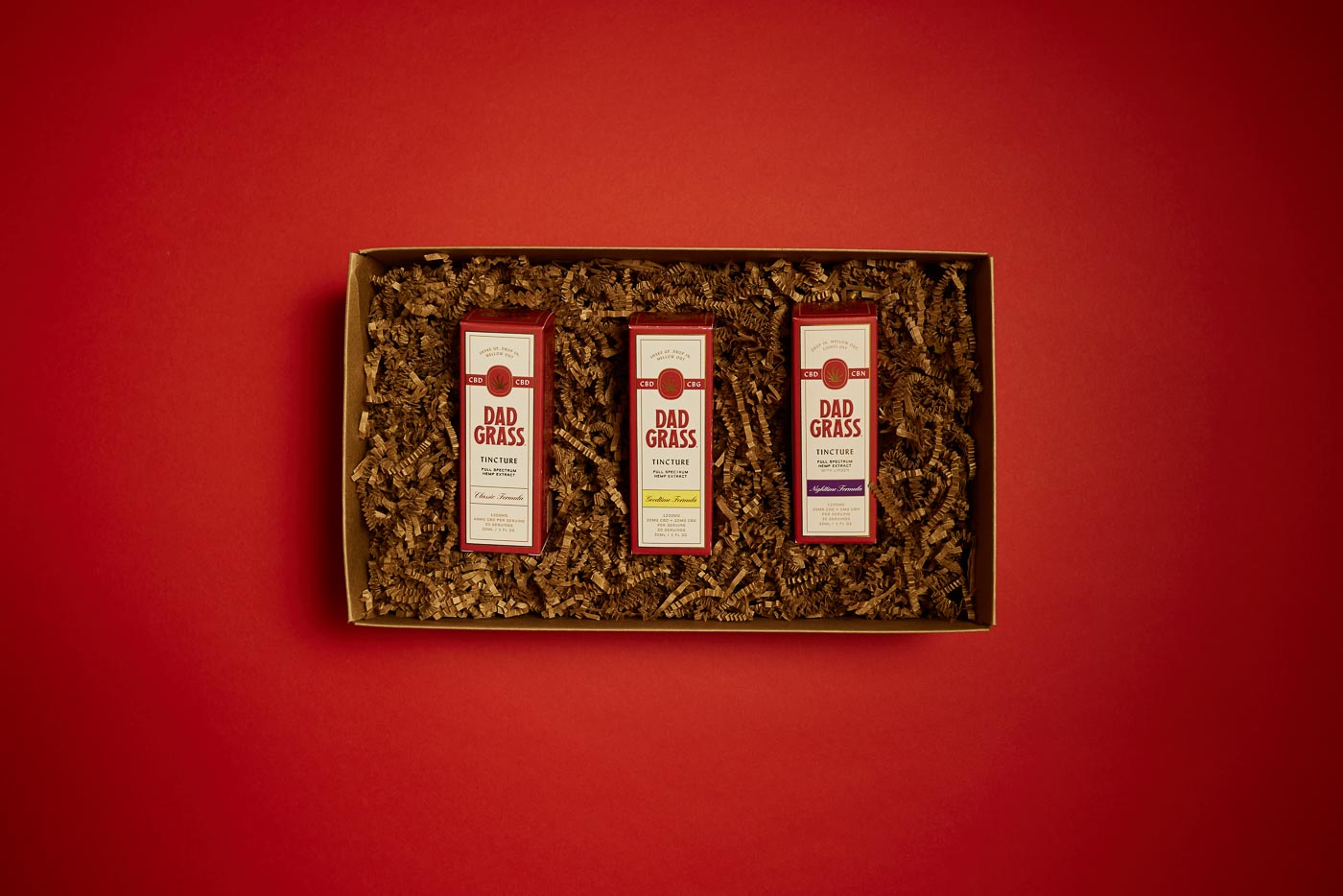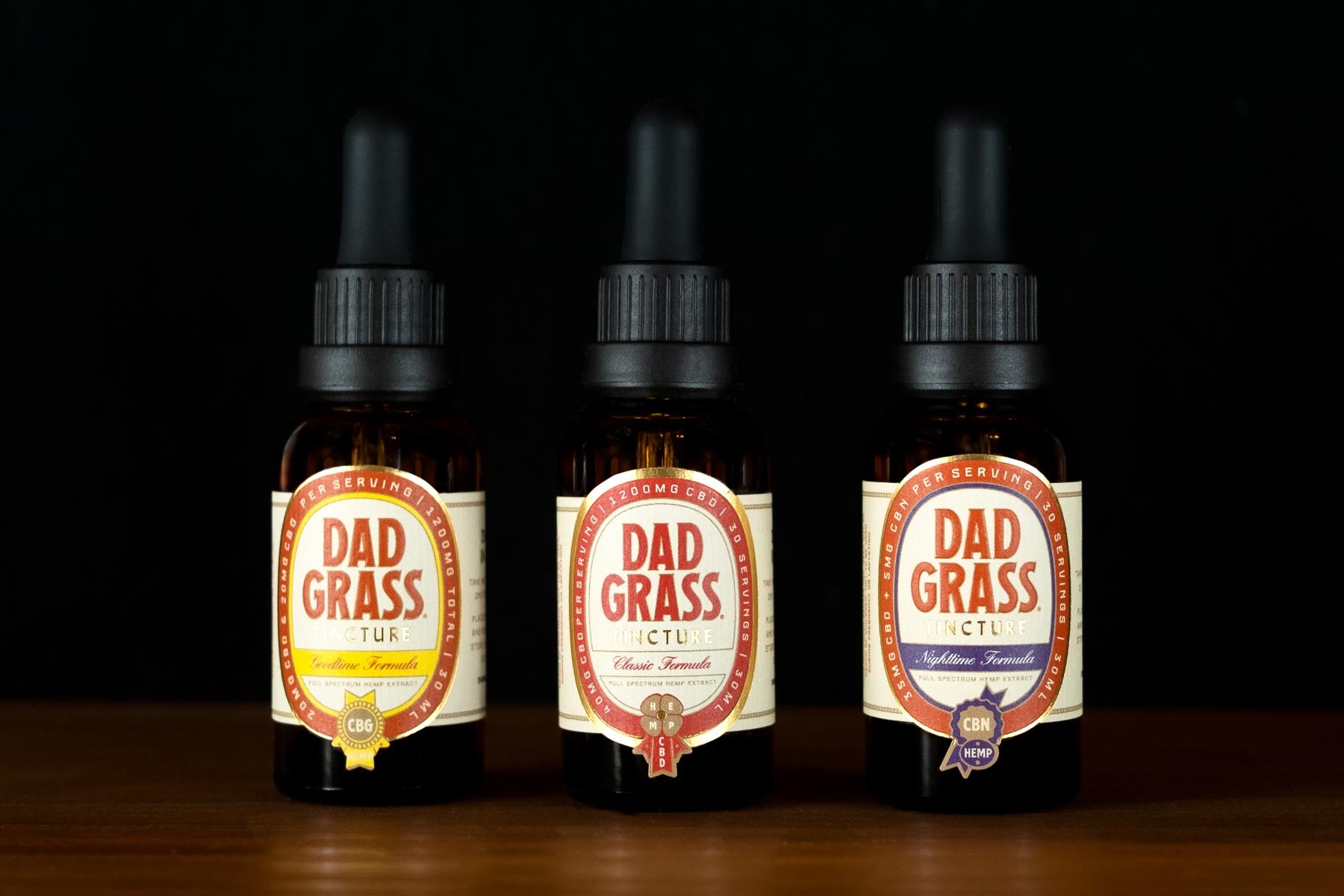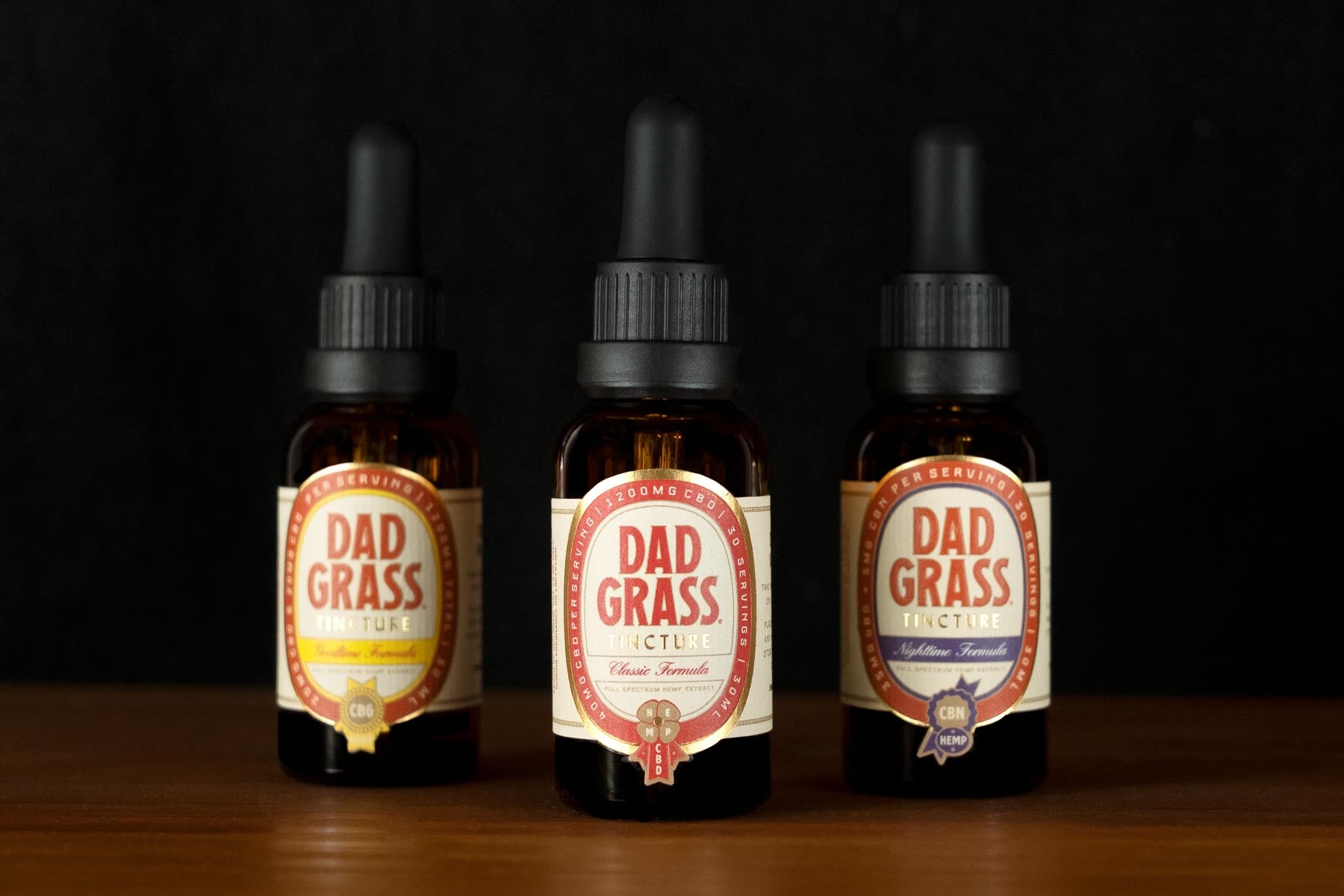 Dad Grass Tincture Trio Bundle
$179.00
Regular price
$195.00
Subscription • Save
Description
Rock out with your drops out with our Dad Grass Trio Tincture Bundle. Not only can you take a few drops of each of our Dad Grass Tinctures every day, but word on the street is that you should. Scientists have discovered that cannabinoids compound in your body over time, priming your endocannabinoid system and allowing you to more effectively absorb additional CBD, CBG or CBN, depending on what brand of chill you're looking for. Our Dad Grass Trio Tincture Bundle lets you save when you hang with Dad's side of the family. It includes one of every Dad Grass Tincture. One Dad Grass Goodtime CBD + CBG Tincture, Dad Grass Classic Formula CBD Tincture, and one Dad Grass Nighttime CBD + CBN Tincture.
A value of $195 for $165 for one time purchases. 
Free USPS first class shipping on all orders over $100!
What's Included?

Dad Grass Classic Formula CBD Tincture:
Drop It Anytime For Daily Wellness & A Dose of Chill
 The Dad Grass Classic Formula is a 100% Organic full spectrum hemp tincture that supports general maintenance of the body and mind. It's high in CBD and rich with terpenes. No herbicides or pesticides. No funky chemicals. And nothing to hide that grassy flavor you'll savor. It's easy to dose and comes on smooth. Take a few drops throughout the day to keep those bad vibes away.
Dad Grass Goodtime Formula CBD + CBG Tincture:
Drop It The Day After To Keep The Good Times Rollin'
The Dad Grass Goodtime Formula is a 100% Organic full spectrum hemp tincture that provides the relief of CBD with the rejuvenation of CBG so you can keep the good times rollin'. Although this 1:1 formula is good anytime, we like to drop it when our good times have left us feeling, well, less than great. The CBD takes the edge off while the CBG tunes you into whatever the day may bring.
Dad Grass Nighttime Formula CBD + CBN Tincture
Drop It Before Bed To Get Sleep That Dreams Are Made Of
The Dad Grass Nighttime Formula is a 100% Organic full spectrum hemp tincture that will lull you into a deep and restful sleep. Rich with terpenes. High in CBD and CBN. Infused with calming linden. No habit-forming chemicals. Just an all-natural remedy to help you get the sleep that dreams are made of. 
Dad Grass Subscriptions

Listen, we know that commitment can be hard - so we made Dad Grass Subscriptions a no brainer. Our money-saving, easy-scheduling, cancel-anytime program is the stuff that CBDreams are made of. Dad Grass Subscriptions are the best (and cheapest) way to perfect your grass-based lifestyle. And it's as easy as 1,2,3...4.

Have questions? We love your inquisitive mind. Read through our FAQ and have all your fears and anxieties soothed (or is that just the Dad Grass kicking in?)
Legal Disclaimers
THC Content is at or below the legal limit of 0.3%.
You must be 21 or older to purchase or consume these products.

The statements made regarding these products have not been evaluated by the Food and Drug Administration. The efficacy of these products has not been confirmed by FDA-approved research. These products are not intended to diagnose, treat, cure or prevent any disease. All information presented here is not meant as a substitute for or alternative to information from health care practitioners. Please consult your health care professional about potential interactions or other possible complications before using any product. The Federal Food, Drug, and Cosmetic Act require this notice.
Warning: Cancer and reproductive harm. www.p65warnings.ca.gov

Dad Grass Tincture Trio Bundle

$179.00

Regular price

$195.00
You've got questions about our tinctures? We've got answers!
What is the Dad Grass Classic Formula CBD Tincture made from?
Our Dad Grass Classic Formula CBD Tincture is made from the same CBD-rich 100% Organic Dad Grass hemp flower you'll find in our Dad Grass Joints. The recipe is pretty simple. Just carefully extracted, full spectrum hemp oil blended with organic MCT oil. An easy, everyday formulation that celebrates the mellow goodness of the whole cannabis plant. That's why we like to refer to it as "Dad Grass in a bottle."
What's the best way to use Dad Grass Classic Formula CBD Tincture?
Under The Tongue: Remember, "bioavailability" is the name of the game when it comes to CBD. The best way to experience the full benefits of a Dad Grass Classic Formula CBD Tincture is to take it sublingually to ensure you're getting as much of the good stuff as possible. We recommend placing your desired dosage under your tongue and waiting about 30 seconds before swallowing (if it helps, sing the chorus of Bye, Bye Miss American Pie in your head while you wait). The arterial blood supply under your tongue needs time to absorb the CBD to ensure your endocannabinoid system receives all the benefits of hemp.
Low And Slow: We recommend first timers start out low and slow with one half to one full dropper (about 1ML). Just remember, you can always add additional drops in a half hour if you want to enjoy deeper levels of chill.
Your Daily Dose: You know when dad used to say that "an apple a day keeps the doctor away?" Ya, we're pretty sure he was talking about CBD. Not only can you take CBD every day, but word on the street is that you should. We already know that you can't overdose on CBD, and because CBD is a fat-soluble compound (and is most effectively absorbed by the body when consumed alongside saturated fats like MCT) it compounds in the body over time. That means that when taken daily, the benefits of CBD build on themselves and are believed to add additional health benefits when taken consistently. Not only do the benefits of CBD compound in your system, when you incorporate full spectrum CBD oil into your daily routine you also prime your endocannabinoid system, which in turn will allow your body to more effectively absorb the benefits of the additional cannabinoids you like to enjoy. 
How will Dad Grass Classic Formula CBD Tincture make me feel?
Our friends tell us that the Dad Grass Classic Formula CBD Tincture helps ease their symptoms of stress, anxiety, pain and inflammation while providing a subtle, naturally calming effect. Many daily users report that it improves their mood and overall sense of wellbeing. Like our CBD Joints and Flower, our tinctures tend to widen smiles without altering minds. That's because they are full of CBD but contain only trace amounts of THC, which is the psychoactive cannabinoid in cannabis that has a tendency to make you feel stoned or, worse yet, freak out. Some people report getting a mellow buzz, but usually only after taking a larger dose. And don't worry, our tinctures aren't a stimulant either, so if you need a little wind down before you turn in for the night, Dad Grass tinctures are a great way to lull you into a natural sleep as well.
Will Dad Grass Classic Formula CBD Tinctures give me the same feeling as Dad Grass Pre Rolled Joints?
Although our joints and tinctures share the same main ingredient, the experience and effects may be slightly different. When you smoke hemp flower, you're likely to feel it more quickly. When you consume a tincture sublingually (that means, under your tongue), the onset may be a bit more gradual and the effects more subtle. Either way, you're still going to benefit from the plant's full spectrum of cannabinoids, terpenes and flavonoids that all work together to give you that mellow feeling that you've come to expect from Dad Grass's high quality products. Relaxed body & mind? Check. Widened smile? Check. Clear head? You betcha.
What are the benefits of using Dad Grass Classic Formula CBD Tinctures?
People tend to be as complicated as the endocannabinoid system (into science? Read more about the endocannabinoid system here!). So everyone tends to react a little bit differently to our products. But after doing plenty of R&D (if you know what we mean) we've got a pretty good sense of what most people can expect from Dad Grass Classic Formula CBD Tinctures. 
When taken daily, our tinctures help many people achieve and maintain a state of reliable chill, while keeping their minds sharp and focused for whatever comes their way. And whether they're used once in a while or as a daily ritual, high quality full spectrum CBD tinctures like ours have proven effective in reducing anxiety, stress, pain and inflammation. There's also a growing body of scientific research that indicates they can help alleviate certain symptoms associated with chronic illnesses. 
How long will Dad Grass Classic Formula CBD Tinctures take to kick in?
When you consume Dad Grass Classic Formula CBD Tinctures sublingually (under the tongue), you can expect to feel the mellow vibe of the CBD working its magic in 15 to 45 minutes. Keep in mind that everyone is different and everyone's bodies absorb cannabinoids at different rates, but you can generally expect to reach your peak at about 90 minutes. If you simply drink your tincture or consume it alongside food or a drink, your buzz will take longer to set in but may actually last longer.
When would I choose a Dad Grass Classic Formula CBD Tincture instead of a Dad Grass Pre Rolled Joint?
¿Por qué no los dos? Trust us, there's room for pre rolls, loose flower and tinctures in your daily routine. But we understand that it's not always easy, or appropriate, for you to bust out a doobie. That's where our tinctures come in.
They're discreet. Unlike other forms of cannabis (like joints), tinctures allow you to soak up the benefits of hemp cannabinoids without that oh-so-lovely smell. But just because our tinctures don't smell, doesn't mean they lack terpenes. We utilize full spectrum hemp in our tinctures, meaning that like our joints, they're filled with all the best flavonoids, cannabinoids and terpenes. 
They're convenient. With our tinctures, you get all the power of CBD-rich Organic hemp, no lighter or rolling papers required. 
They're precise. Our dropper keeps you in control. You can tailor your exact amount so you achieve the vibe you're after.
They're smoke free. Listen, it's not lost on us that not everyone wants to smoke joints all day long. That's why we gave you Dad Grass in a bottle.
They're fast. While inhalation is still the quickest way to feel the full effects of hemp, tinctures come in as a solid silver medalist when it comes to how long it takes to kick in. 
Are Dad Grass Classic Formula CBD Tinctures tested by reputable 3rd party scientists?
Duh. We can't help but go the extra mile to make sure what we're serving you is 100% pure and of the highest quality. Every one of our tinctures has a little rose-colored label that helps you learn more about it. A quick glance will give you the batch number as well as the amount of CBD (in MGs) and THC (always below the federally legal amount of 0.3%) in the bottle. Scan the QR code and you'll find the detailed testing report, also known as a Certificate of Analysis (COA), done by the same independent third-party labs that test the marijuana products you find in dispensaries.
Not only do our labs determine the precise concentrations of THC and CBD as well as the terpene profiles, they also make sure our tinctures are free of herbicides, pesticides, mold, fungus, bacteria, heavy metals or other toxins (basically all of the yucky stuff). This is especially important for tinctures because any contaminants that creep their way into the soil or onto the crop will become more concentrated, and therefore more toxic, when the plants are distilled into a liquid form. 
Don't worry, we nip this issue in the bud by only using 100% Organic hemp grown under the sun using regenerative farming techniques. Then, just to be absolutely sure that our tinctures are as perfect as you deserve, we put the finished product through a battery of tests and we always pass with flying colors.
Subscribe & Save
There's nothing quite like a daily ritual. Whether you're a morning doser or an evening dropper, a Dad Grass subscription saves you time, stress (and cash)."
Learn More
Mellower days are a drop away with Dad Grass's tinctures
The Best CBD Tincture of 2022 that is "The smoothest, bad vibe-bustingest full spectrum hemp extract we've tried this year….We like the silky, natural flavor — no additives, no flavorings, no nonsense, just good times."
One of the best CBD products and the "current favorite CBD tincture"
A top release of the year that will "make getting your CBD doses easier on your body (and your lungs)."
"Easing symptoms of stress, anxiety, pain and inflammation while providing a subtle, naturally calming effect...this easy-dose tincture is radical, dude."
"The CBD tincture offers customers a new avenue for enjoying the mellow vibes of Dad Grass" with "a chill, non-psychoactive calming effect."
Deputy Editor Danielle Stein says "I've taken it before bed when my chronic neck/shoulder pain flares up and each time I've managed to have a delicious night's sleep without discomfort."
"If you happen to be a newcomer to cannabis, the newly released tincture might be a solid way to ease yourself into the category."
"A notable new weed release"
"Crafted to lull you into a deep and restful sleep with a terpene-rich formula high in CBD and CBN, this tincture is sure to make your bed seem comfier than ever."
Dad Grass Tinctures get a highly recommended rating from our expert CBD review staff!